Nothing beats waking up to the sight of numerous wrapped gifts around the house on a holiday morning, especially for children. There's always so much excitement and joy when ribbons are being loosed, and gifts unwrapped. Usually during the holidays, Christmas presents could consist of dolls and toys for kids, wristwatches, shoes, and even car keys for adults. In recent times, however, present recommendations for holidays are beginning to change. Technological advancement has led to the increasing purchase of electronic presents. Technology gadgets are now the most wanted holiday presents expected by both children and adults. These gifts range from smartphones and devices to gaming consoles and kitchen appliances. 
However, one of the best present recommendations you can get is a smart projector. The holiday season emphasizes togetherness and family spending quality time, and this is an excellent way to get everyone in the family together. With a home projector, the holiday season can be exciting and filled with entertainment. Getting an extra huge 150'' home projector will make your holiday season unforgettable. A portable camping projector can also be a pleasant gift in this season. As it is portable and can easily be moved around, camping experiences can be transformed into memorable moments.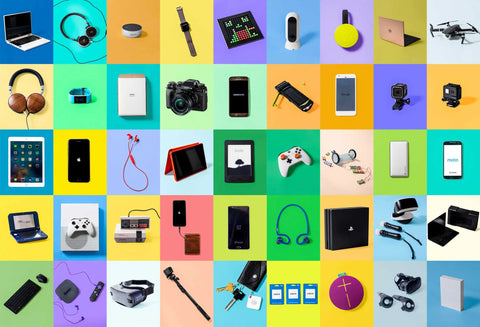 The Best Holiday Gifts For 2022
Giving presents is a constant feature of the holidays which most people look out for. Getting the right presents for your loved ones will surely add smiles and joy to their life. Here are some present recommendations for holidays: 
Air fryers:

They are far more efficient and faster than regular countertops toaster ovens. It runs on electricity and cooks food thoroughly. The air fryer is an excellent addition to kitchen appliances and can perform various cooking activities, including roasting, baking, grilling, and air-frying quickly. With digital controls that help you handle your cooking and a fantastic price, this is the perfect gift for the holiday season.

Casetify smartphone case:

When searching for a great holiday gift, this fits in perfectly. There are custom cases that showcase funky designs and are perfect for the holiday season. It may look small, but your holiday will get better once you unwrap it as a present. These cases are available for smartphones, smart devices, and even laptop systems and are very stylish.

Smart Monitor:

A smart monitor is a top choice for remote working, films and TV shows. It is also great for education, music, social media, and gaming. The perfect way to complement a PS5 gaming console is to get a 4K smart monitor alongside. A smart monitor also allows you to access the Internet and watch videos on YouTube. For non-stop digital entertainment, this is the perfect holiday gift for you.

Apple AirPods Max:

These noise-canceling headphones are great choices when considering a present. They are very comfortable with fantastic sound and build quality. The headphones are also fitted with top-notch transparency mode, Spatial audio surround for iPhones and iPads. Perfect for making and receiving calls and a wonderful present for family and friends. 

Kindle Paperwhite:

For voracious readers and bookworms, this is an exciting holiday present. With 32GB storage space, it is a true portable library with thousands of titles ready for fast download. It is also modeled to mimic actual paper so you can read them in direct sunlight and easily outdoors. It is also more friendly to the eyes than reading with phones and tablets. As an added advantage, the Audible feature offers the chance to listen to great books on the go. 

Pokitter smart projectors:

Apart from being perfect for the season, these projectors are wonderful family gifts as they can be used all year round. With these gifts, there would be no need for a screening room. Powered by Android TV 10.0, smart projectors like Go Series, CineMax Pro, Relaks are equipped with Netflix app and designed to give you an exciting holiday season as they offer a memorable viewing experience. 

Gaming consoles (PS5, Xbox Series X, Nintendo Switch):

For kids and young adults, these are the best presents they can get for holidays. The best way to enhance the holiday period of an avid PlayStation gamer is with the PS5. The Nintendo Switch is also every gamer's wish for the holidays. 

Echo Dot:

This device will excite people if received for holidays. It comes with a beautiful and stylish design. Fitted with a 1.6" speaker and 360 degrees sound, your music experience will undoubtedly be transformed. As it is pretty affordable and easy to set up, the device is just suitable as a present. 

Home office desk:

A perfect gift to improve a home workstation. It is also quite efficient as a lot of people now work from home these days.

Gift cards (Amazon, Netflix, Nike, HULU):

These cards, which can be physical or digital, are also excellent gifts for holidays. As they are helpful substitutes for cash, they make shopping more convenient and exciting. With no idea of a present to purchase, gift cards can serve as pleasant gifts.
Why Smart Projectors Make The Best Holiday Gifts
With smart projectors, your holidays will be an exciting and unforgettable one. Here are a few reasons why they are perfect holiday gifts: 
Larger screens:

Smart home projectors are designed with large screens. Some of them have screens as large as 200 inches. Thus, movies and videos can be viewed comfortably from any room corner.

1080p/4K resolution:

Both resolutions are great, and they provide colorful, detailed, realistic images for the perfect gaming and movie experience. 

Built-in entertainment:

Most smart projectors run on Android TV™, which provides access to over 5000 various apps like Netflix, HBO Max, Disney+ and HULU for unlimited entertainment. 

Multiple ports:

HDMI and USB can be used with smart projectors as they often come with multiple ports for easy connections with gaming consoles, laptops, Blu-ray players etc. These projectors can also be linked with your smart devices, hard drives, gaming consoles, and speakers through Bluetooth or WiFi. 

Chromecast:

They also come built-in Chromecast for easy pairing and efficient functioning.
Product Recommendations
Pokitter Relaks: Best Smart Home Projector within $500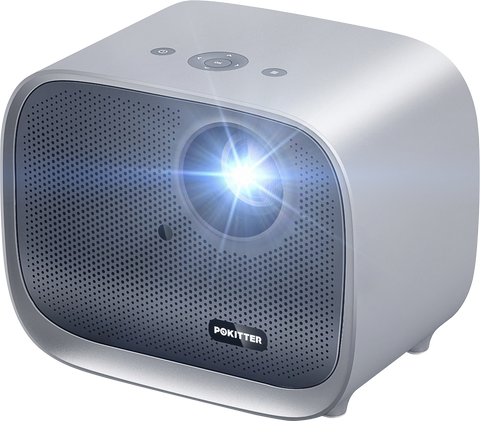 1. Smartest and Most Content-Loaded Home Projector
In addition to the certified Netflix app, there are more than 5,000 apps such as Disney+, HBO Max and Prime Video provided by Google Play built into the Android TV 10.0 OS. It also supports Chromecast and AirPlay so that the content on Android/iOS devices can be casted to its bigger screen in just a few simple steps.
2. Best in Clsss Sound & Picture Quality 
150-inch giant screen with brightness up to 400 ANSI lm plus a pair of 10W Hi-Fi speakers bring an immersive viewing experience.
3. Setting up Is a Breeze with Auto-Adaptive Screen Technology
Forget about the fussy picture adjustment of traditional projectors. Equipped with high-speed processor and AI algorithm, Relaks features automatic screen adjustment including auto focus and auto keystone correction. 
Pokitter Go Series: Ultra-Portable Netflix Certified Smart Projector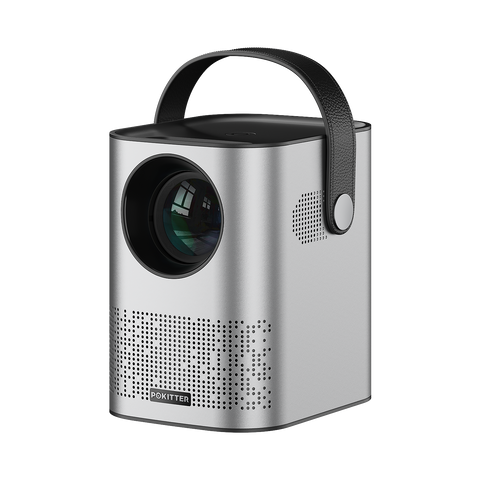 1. Smartest and Most Content-Loaded Portable Projector 
In addition to the certified Netflix app, there are more than 5,000 apps such as Disney+, HBO Max and Prime Video provided by Google Play built into the Android TV 10.0 OS. It also supports Chromecast and AirPlay so that the content on Android/iOS devices can be casted to its bigger screen in just a few simple steps.
2. Take Gaming Experience to the Next Level  
Connect Nintendo Switch, Playstation and other game consoles to Pokitter Go Pro via its HDMI port, and enjoy up to 100-inch gameplaying.
3. Carry Go Pro with You when Camping in the Wild*
The 100-inch large screen with brightness up to 200 ANSI lm plus a pair of 3W Hi-Fi speakers will make your outdoor trip literally colorful. 
*It needs to be used with portable power station (not supplied).